You can learn the basics of enamelling and create your own jewellery/plaque.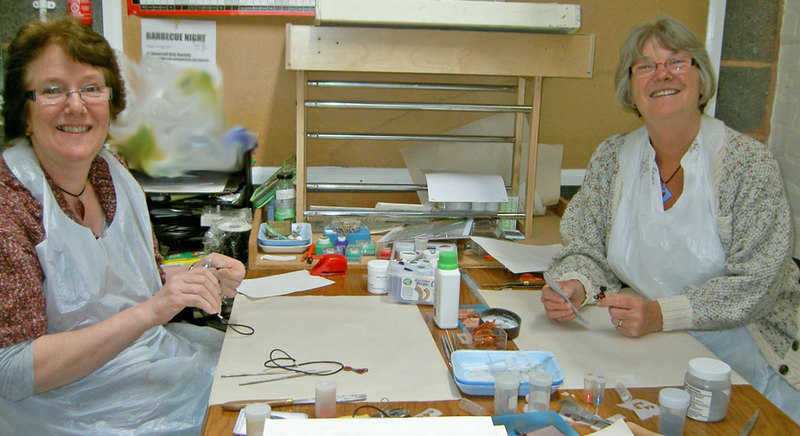 Would you like to learn to do enamelling?
In a two hour session, you can learn the basics of enamelling and create your own piece of jewellery or small plaque - to decorate a box, notebook or other object you may have at home. You could either keep your finished item or give it as a present.
I teach groups of two or three, or four people, or individuals - in a one to one session. The sessions take place in the workshop area of the studio. It's fun to learn with friends and even if you don't all consider yourselves 'artistic' or particularly creative you will be able to make something to be proud of to take home and show your relatives and friends.
Sessions booked in 2022 will be priced as below:

One to one tuition - £60 (two items can be made if wished)
Book a two person session - £40 each
Book three people sharing a session - £35 each
Book a four person session - £30 each.

Please note: Due to Covid 19 it would be appreciated if you would wear a face mask/ covering despite the lifting of restrictions. As part of the process of enamelling fine glass powders are sieved on to a metal shape and the dust produced can be breathed in so, although not essential in terms of my workshops, it is always good practice to wear a mask. Please note: Don't be alarmed, working with the powders without a mask for a short introductory session is not harmful. However, the need to wear a mask should be a consideration if you wish to take up enamelling on a regular basis.
All materials and tuition to make one item are included for group sessions. If you would like to make a second piece this will cost an extra £5 (payable on the day). Please bear in mind the session may last longer if all participants choose this option. No extra charge Is made for a second item at a one to one session.
For group sessions all places are usually booked together by one of the friends/relatives involved. I unable to match individuals to form a group.
Sessions are available on Wednesday, Thursday and Saturday mornings. Generally, Saturday sessions are only available between January and October, as I attend seasonal craft fairs during November and December.
Bookings can be made in the ways given below. It would be helpful if you have in mind two or three potential dates and the number of people attending when making contact. If sessions are to take place within one month of booking payment can be made in cash/card on the day. If preferred or, (if a booking is for a date further ahead) once a session has been confirmed payment can be made online. Unfortunately, at present I cannot take payments over the phone.

If you would like to give a gift voucher for a session click here
Complete the form to below. Please include the following in the 'Your message' area.
A choice of possible dates.
Number of places required.
Whether you have done enamelling before.
Thank you for submitting the contact form.