Buy Direct -Visit the Studio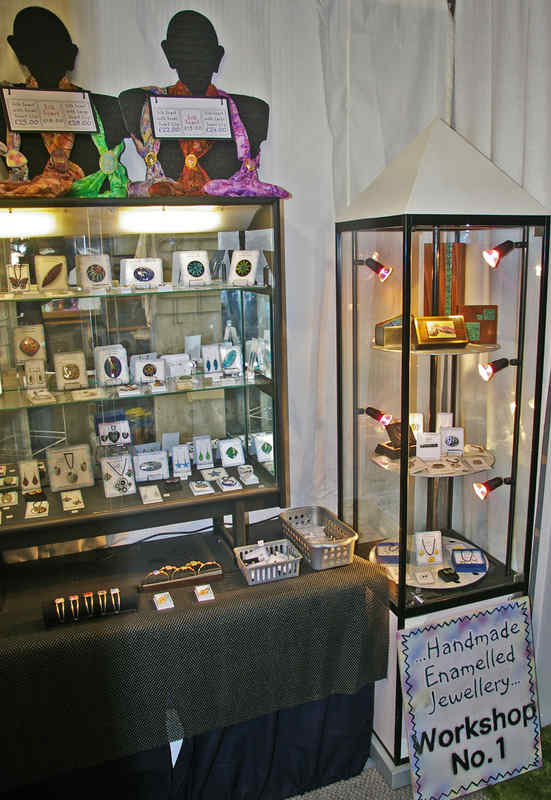 There is a small shop area
to browse.
The studio is situated on the outskirts of Bromsgrove, Worcestershire. When leaving Bromsgrove via the bypass in the direction of Droitwich/Worcester, pass Morrison's and continue straight on to the top of the hill, just before the pedestrian crossing turn left into the drive up to the Arts Centre. See the map below (not to scale). There is ample free parking. The workshop units are next to the car park, and can also be accessed by wheelchair. 'Original Kiln-fired Enamelled Jewellery' is Workshop No. 1, third from the road, in the group of three. The full address of the workshop is Workshop No.1, Avoncroft Arts Centre, Redditch Road, Stoke Heath, Bromsgrove, Worcestershire B60 4JR.

Opening Hours
As a guide the workshop & shop will be open:
Wednesday, Thursday, Friday 11am-4pm
Some Saturday mornings - open for pre-booked enamelling sessions.
Sundays (SORRY- CLOSED- the monthly craft fairs which have been held in the main hall of the Arts Centre are no longer being held)
However, you are welcome to visit at any time when my sign at the end of the Arts Centre's drive shows 'Open'.
Unfortunately, on occasion the workshop may be closed without notice on some days/part days given above and is likely to be closed when I am exhibiting at a craft show.
Before making a special journey it is always best to check the workshop is open by calling 07952 915229 or by looking at the 'Events' page. If you are unable to visit during the hours shown above, it may be possible to open at other times by prior arrangement.
Cash and all major credit/debit cards can be used to purchase jewellery when visiting the workshop 'Shop'. You may also find it useful to know, that there are cash machines a few moments away at Morrisons superstore (see map above).